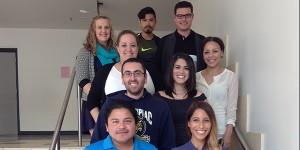 The SDSU MARC program in partnership with the SDSU IMSD program initiated the Current Ph.D. Panel event in 2008 for students whose ultimate degree objective is a Ph.D.  This year's event was held on Friday, December 4, 2015 from 2:00 – 4:00pm in GMCS 301.
The nine invited panelists represented a variety of areas such as biology, chemistry/biochemistry, engineering, physics/mathematics, and psychology.  There were seven SDSU alumni and two panelists who completed their undergraduate degrees at UCSD and the University of Florida.
The panel shared with the nearly 45 students in attendance everything from the application/interview process to how and when to apply for fellowships.  Many panelists shared their failures along with their successes stating that failure is part of the learning experience.
During the first hour, panelists addressed broad issues and shared information that applied to all students.  Then the panel separated into discipline-specific groups to allow students to address more specific issues in a smaller, more accessible and intimate setting.
Below are the panelists for this year's event:
| | | |
| --- | --- | --- |
| Name | SDSU CASA Program | Graduate Institution & Doctoral Program |
| Cecilia Bess | MARC | Texas Tech, TX – Counseling Psychology |
| Alex Booker | IMSD | SDSU/UCSD Joint Doctoral Program, CA – Clinical Psychology |
| Allie Clark | N/A | UCSD, CA – Neuro Clinical |
| Adrian Contreras | IMSD | UCSF, CA – TETRAD Program |
| Danielle Doughty | IMSD | University of Arizona, AZ – Optical Science |
| Jorge Jimenez | IMSD | UC, Santa Cruz, CA – Biology & Biochemistry |
| Sonia Maciejewski | IMSD | UC Irvine, CA – Biology |
| Oscar Rios | N/A | UCSD, CA – Mechanical Engineering |
| Gerardo Soriano | MARC | UCSD, CA – Chemistry |