(Click student's names for ePortfolio)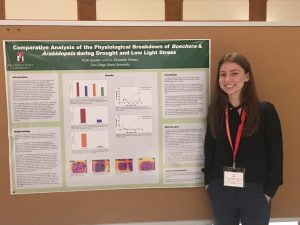 Biology
Rut
h Epstein was appointed to the MARC program in July 2018. Her major is Biology with a minor in Honors. Ruth is currently conducting research in Dr. Elizabeth Waters evolutionary land plant laboratory. Previously, they studied the physiological breakdown of Boechera depauperata and Arabidopsis thaliana during drought stress. Currently, they are studying the effects of methanotrophic bacteria and methane on drought stressed B. depauperata and A. thaliana

. Hopefully both species show improvement because methanotrophic bacteria will produce water with the addition of methane as its carbon source. She believes this research has broad implications in agriculture and plant productivity since many crops must adapt to varying abiotic and biotic factors. This summer, she is conducting research at Cornell University to understand the effects of maize mutant DDM1 on meiotic recombination. Following her undergraduate journey, Ruth would like to pursue a Ph.D in either plant genetics or plant breeding. She hopes to conduct research to improve crop outputs around the world that are facing extreme events due to climate change.
*Not federally funded
---
Chemistry
Ernesto Millan was appointed to the MARC program June 2019. His major is Chemistry with a minor in Mathematics. Ernesto is currently conducting research in Dr.
Gustafson's
organic chemistry laboratory. His project is on developing new methodologies for regioselective C-H functionalization, in hopes of advancing more accessible and efficient pathways towards synthesizing pharmaceuticals. Once completing his Bachelor's degree, Ernesto plans to pursue a Ph.D. in synthetic organic chemistry involving biologically active or pharmaceutically relevant compounds.
---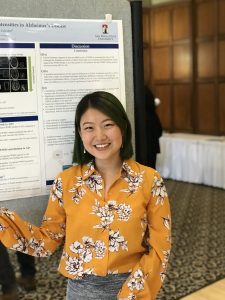 Psychology
Da Yeoun (Hanna) Moon was appointed as a MARC scholar in September 2018. Her major is psychology, with minors in statistics and honors in interdisciplinary studies. She is currently working under 
Dr. Lisa Eyler
 in the Biopsychological Research on Aging, Inflammation, and Neuropsychiatry (BRAIN) lab. She is also currently working on a project examining neurocognitive abilities of children with binge eating disorder (BED) using the Adolescent Brain Cognitive Development (ABCD) data under the supervision of Dr. Aaron J. Blashill. Previously, she conducted research at the University of Nebraska-Lincoln as a part of the REU Minority Health Disparities Initiative (MHDII) Summer Research Program (SRP), where she examined the relationship between health perception and hepatitis C infection in rural Puerto Rico's injection network using social network analysis. This past summer, she took part in the Summer Research Opportunity Program (SROP) at the University of Michigan–Ann Arbor and completed a literature review on the contribution of white matter hyperintensities in Alzheimer's disease. She plans on pursuing a Ph.D. in clinical neuropsychology where she wishes to continue examine the neural and psychosocial correlates of cognitive aging and neurodegenerative diseases.
---
Chris Oyuela
Mechanical Engineering
Christopher Oyuela was appointed to the MARC Program June 2019. His major is Mechanical Engineering with a minor in Computer Science. Chris is currently conducting research in Dr. Kassegne's Micro Electrical Mechanical Systems (MEMS) Lab. Currently, his project is focused on developing novel and efficient systems to improve the current field of microfluidics. He plans to further his investigations of this field to improve and introduce alternative approaches for using MEMS devices in the neurological field. Once completing his Bachelor's degree, Chris plans to pursue a Ph.D in either MEMS or in material science emphasizing his research on the biomedical field.
---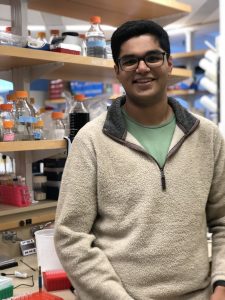 Biology
Viraj Upadhye was appointed as a MARC Scholar in June 2018. He is majoring in Biology with an Emphasis in Cellular Biology and minoring in Chemistry. He is currently conducting research in the Molecular Mechanisms of Disease Lab under Dr. Christal Sohl. His current research project involves studying the mechanistic properties of Isocitrate Dehydrogenase 1 (IDH1) by creating various mutations of the enzyme and assaying it kinetically. IDH1 is found in >80% of lower grade gliomas and secondary glioblastomas, understanding its catalytic activity could lead to a better understanding of its role in cancer. This summer he was appointed to the Amgen Scholars Program at University of California San Francisco where he studied under Dr. Bassem Al-Sady. At UCSF he studied H3K9 methylation, a predominant phenomenon that regulates genetic suppression and helped build a tool to better study the phenomenon. Viraj hopes to continue conducting research at SDSU for the remainder of the academic year and apply to molecular biology and biochemistry Ph.D. programs this fall.
*Not federally funded
---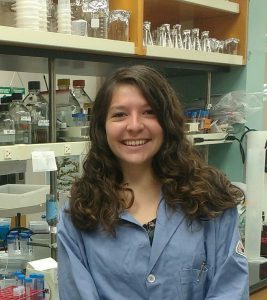 Biochemistry
Citlayi Villaseñor was appointed as a MARC Scholar in June 2018. She is majoring in biochemistry and minoring in honors interdisciplinary studies. She is currently conducting research in a structural biochemistry laboratory under the mentorship of Dr. Tom Huxford. Her research project involves the characterization of an anti-dsDNA antibody, 2C10. Due to its sequence homology to a previously studied metal binding antibody, we believe calcium increases the binding affinity of 2C10 to its antigen. Determining the binding mode of 2C10 to its antigen may provide valuable insight into the conservation of metal binding antibodies in evolution. In the summer of 2019, Citlayi participated in the University of Michigan's Biophysics REU program under the mentorship of Dr. Arun Anantharam. She employed total internal reflection fluorescence (TIRF) microscopy to research fusion pores in pancreatic beta cells to better understand insulin secretion by exocytosis. Citlayi aims to earn a PhD related to neurobiochemistry studying proteins that are important for the function of the nervous system. After earning her PhD she hopes to continue researching in an environment with passionate individuals who are eager to find answers to fundamental biochemistry research questions that can be applied to improve the livelihood of our community.
---