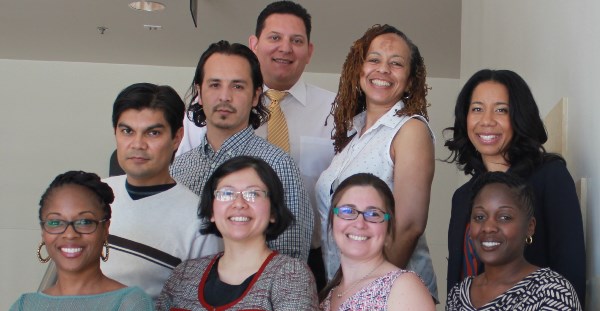 The SDSU MARC program in partnership with the SDSU IMSD program initiated the Post Ph.D. Panel event in 2006 for students whose ultimate degree objective is a Ph.D. This year's event was held on Friday, April 20, 2015 from 2:00 – 4:00pm in GMCS 333.
The nine invited panelist represented a variety of areas such as biology, engineering, physics, psychology and speech language and hearing sciences. Eight of the panelists are SDSU alumni, and one from UCD.
The panel shared the lessons they learned about, the challenges and opportunities after graduate school to the nearly 50 students in attendance. During the first hour, panelists addressed broad issues and shared information that applied to all students. Then the panel separated into discipline-specialic groups to allow students to address more specific issues in a more intimate setting.
Kristian Brown, former SDSU MARC trainee and current Abdominal Transplant Faculty Fellow Surgeon at USC Keck Medical Center in Los Angeles, CA, attended the panel as a guest and then proceeded to answer questions from a small group of students eager to learn about his experiences as an M.D./Ph.D. graduate.
This year's panelists:
| | | | |
| --- | --- | --- | --- |
| Name | SDSU CASA Program | Graduate Institution; Doctoral Program | Current Status |
|  Dr. Veleka Iwuaba |  IMSD | University of Texas, Southwestern; Biology & Immunology | Adjunct Professor, San Diego Community College District |
|  Khanichi Charles |  IMSD/MARC | Harvard University; Biology | Science Teacher, Marlborough School |
|  Mario Navarro |  N/A | UCSD/SDSU Joint Doctoral Program; Chemistry | Postdoctoral Fellow, Sanford Burnham Institute |
|  Giang Pham |  IMSD | University of Minnesota; Communication Disorders | Assistant Professor, University of Massachusetts |
|  Jorge Robles |  N/A | University of California, Davis; Physics | Research Scientist, Decision Sciences Corporation |
|  Cecilia Larrosa |  MARC | Stanford University; Aerospace Engineering | Senior Associate, Exponent Analysis Associates |
|  Desiree Byrd |  MARC | UCSD/SDSU Joint Doctoral Program; Clinical Neuropsychology | Assistant Professor, Mt. Sinai School of Medicine Psychiatry and Neurology |
|  Cesar Contreras |  MARC | University of Florida; Chemistry | Postdoctoral Research Scientist, NASA Ames Research Center |
|  Sinead Younge |  MARC | Michigan State University; Counseling Psychology | Assistant Professor, Morehouse College; Managing Associate conducting health evaluation research |