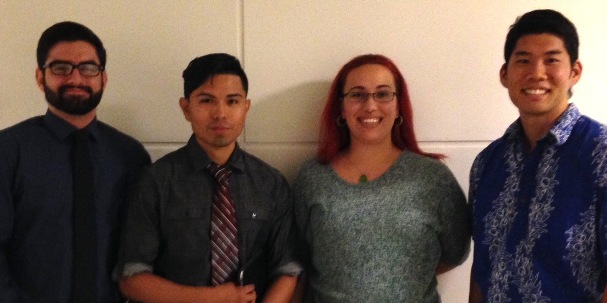 Pictured from left to right are MARC Scholars: Babgen Manookian, Gerardo Soriano, Alterra Sanchez and Kent Kurashima. Not pictured: Mirae Dong, Charles Moreno, Carlos Nowotny and Alexis Romero
This year the Undergraduate Research Symposium (URS) was held on October 3, 2014 in the GMCS Building on the SDSU campus.  The symposium is the key platform for IMSD and MARC scholars to present what they have learned through their research experience to our SDSU academic community before they present their work to a larger audience at professional conferences. Scholars took this opportunity to practice their presentation skills, receive feedback from judges and make new professional connections. Giving our scholars, faculty and other students the opportunity to discuss different research topics.
Scholars presented the research they have been conducting in the SDSU lab  or  had conducted during their summer research experience. The symposium included oral presentations from the following disciplines: Biology, Chemistry, Engineering, Mathematics, Physics and Psychology.  The oral presentations were judged by SDSU faculty, members of industry and graduate students in the different discipline specific areas.  We are grateful to the judges who took the time to provide each of our scholars with valuable feedback they will use to improve their presentation skills.
Students in the Colleges of Sciences and Engineering were invited to attend as well as students participating in our Pre-MARC Learning Community Seminars so they can discover that attending the symposium is a great way to learn about the broad range of research taking place in our programs and the range of research opportunities available to them.
Here is a list of the IMSD and MARC scholars by discipline who participated in the symposium with the title of their presentation:
Biology
Samvel Avagyan: Exploration and suppression of mutant huntingin mediated skeletal muscle defects
Andres Bermudez: Identification of the GBS bacterial factor that contributes to tight junction disruption in brain endothelium
Carlos Brambila: High throughput drugs screening in vivo using droplet microfluids
Katrina Cable: Keep your sox on: soxb1b is required for regeneration and maintenance of the nervous system in planarians
Mirae Dong: Coxsackievirus dissemination and escape from the host neutralizing antibody response via natural encapsidation
Marley Hilleger: Comparing the quantity of phage-encoded blactxm-1 in environmental samples to wastewater samples
Carlos Nowotny: Muscle fatigue testing in mouse models of periodic paralysis
Carlo Quintanilla: Identification of transcription factors involved in motor neuron differentiation and function in the planarian schmidtea mediterranea
Alterra Sanchez: Seagrass soaked in copper polluted marina alters community structure
Ben Turner: Comparison of marine viral metagenomes associated with the Point Loma kelp forest and rhodolith algae under increased carbon dioxide
Marlo Villanueva: Cardiac repair is enhanced by notch signaling in cardiac progenitor cells
Alicia Zamudio: Characterization of DNA damage in Alzheimer's disease
Judges: Erilynn Heinrichsen, Berenice Aguilar, Veronica Casas, Edwin Paz, Apollo Kacsinta, Cathrine Aivati, and Natalie Gude
Chemistry
Amanda Brambila: Observing compensatory effects with the down-regulation of serca in neonatal cardiomyocytes using sirna and gene silencing techniques
Eric Lopez: Quinone electrochemistry analysis in organic solvents with platinum and gold working electrodes
Babgen Manookian: Explicit vibrational analysis of the alkyne-vinylidene isomerization on a heterocyclic ruthenium catalyst
Sashary Ramos: Progress towards a quantitative experimental analysis of drug aerosol plumes at a single particle level
Gerardo Soriano: A theoretical study on the isomerization of the cyclooctatetraenyl radical
Robert Vazquez: Bifunctional catalysts for selective oxidation of water and organic substrates
Judges: Aaron Nash, Gabriel Navarro and David Gonzalez
Engineering/Mathematics/Physics
Grace Cordes: Noninvasive nanoparticle detection using silicon microdisks
Alexis Romero: Non-spherical models of compact stars
Kent Kurashima: Charging and testing systems for novel flat micro heat pipe
Judges: Rory Klinger and Vaibhav Yadav
Psychology
Charles Moreno: Verbal learning and memory changes during premanifest stages of Huntington's disease: Evidence from the California Verbal Learning Test-II
Symone McKinnon: The effect of a peer educator intervention on the reduction of perceived public and internalized stigma in depressed older adults
Savanna Tierney: Evaluating measures used to predict age of onset in Huntington's disease
Judges: Desiree Salazar, Vicki Hurless and Julia Bussberg