After a long, award-winning career as a microbiologist and entrepreneur, being named a Fellow by the American Association for the Advancement of Science (AAAS) is more than just another feather in the cap for San Diego State University professor emeritus Stanley Maloy.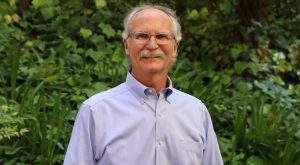 "I really appreciate this award because they recognized not only my research but also teaching and service to society and service to the government," Maloy said. "It's not just for one thing. It's really meaningful and really encapsulates who I am."
When reflecting on his previous accomplishments, he is quick to point out how much of his success has been due to both chance encounters and having excellent collaborators.
Meeting the right person led to Maloy training dozens of Chilean scientists on how to perform advanced experimental techniques in the field of genetics.
Standing next to someone at a conference who studied the Salmonella species responsible for typhoid fever kickstarted a fruitful partnership to understand how small changes in genetic code influence bacteria's ability to infect one or multiple host organisms.
To counteract the rise in germs that are undeterred by antibiotics and antiviral treatments, Maloy led a National Institutes of Health task force, which included fellow AAAS fellow and SDSU biologist Forest Rohwer, that shifted more funding toward microbiology and studying microbiomes.
"The research I've done over the past few years, it's because I came to SDSU and saw different kinds of problems and was encouraged to think about things differently by students and by colleagues," Maloy said.
But solving puzzles of tiny organisms' genetics was not always what Maloy envisioned for himself.
Becoming a scientist
When Maloy was in high school, his science teachers did not convince him science was the way he could make the world a better place. After graduating early, he worked intensively in the restaurant industry, but one night he decided he wanted more.
He completed prerequisites at community college, and then transferred to the University of California, Irvine. To pay for school, he would wake up at 3 a.m. daily to work a couple of hours for the business he started with his brother, then ride his motorcycle 40 miles to class.
It wasn't until a lively laboratory-based course in the spring of his senior year, too late to apply for graduate programs, that Maloy rediscovered his passion for science. He and his brother sold their company, then Maloy got a job as a technician for an electron microscope facility where he learned how to conduct his own experiments before he went on to earn his Ph.D.
Expanding entrepreneurship
Early on in his career as a biology professor, Maloy continued to balance his research with managing biotech companies. The spectacular failure of one business venture lost Maloy and a friend a lot of their own money and put several of his graduate students out of a job. But it motivated him to learn as much as he could about entrepreneurship.
Since that endeavor, he has been more successful, partially due to moving to San Diego, the third-largest biotech hub in the country. He has helped launch several profitable startups applying biological innovations to solve problems in the pharmaceutical and agricultural industries. He has run the National Science Foundation-funded Innovation Corps program, teaching students and professors at SDSU and nationwide how to have an impact beyond the laboratory.
Just before he retired in August 2022 as SDSU's Associate Vice President for Research and Innovation, Maloy preached about the importance of co-locating industry and academic partners at SDSU Mission Valley to facilitate the kind of chance encounters that facilitated his most significant achievements.
"I've had an amazing career, beyond anything I could've imagined as a graduate student," Maloy said. "And I'm really proud of the students who have graduated from my lab, some of whom became AAAS Fellows long before me."
What's next for Maloy? He's focused on furthering SDSU's training for clinical laboratory scientists, writing his next books, and continuing to research emerging infectious diseases in hot spots around the world, all thanks to the relationships he's built with other scientists along the way.
Original article HERE