A number of students presented their latest research at the SDSU 11th Annual Student Research Symposium (SRS) held at the SDSU campus March 2-3, 2018.  The competition and exhibition featured both undergraduate and graduate students describing their original scholarly work in a variety of disciplines. At the reception and awards ceremony held on March 3, our very own MARC scholars, Madison Kennedy, a biochemistry major, and Lorelay Mendoza, an Environmental Engineering  major, received an award for their outstanding oral presentations.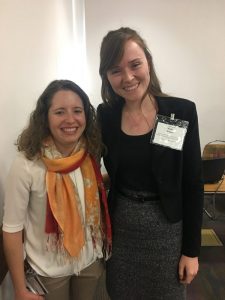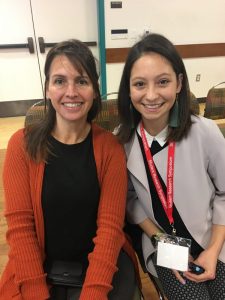 Madison (left) received the President's Award for her oral presentation entitled, Characterization of the Receptor Tyrosine Kinase Tie2, and Lorelay (right) received the Dean's Award for her oral presentation entitled, Applications of in-Situ Fluorescence Sensors for Tracking Wastewater Inputs to Surface Waters.
We congratulate Madison and Lorelay on their outstanding achievement and express our appreciation to Madison's mentor, Dr. Christal Sohl, faculty member in the Department of Chemistry & Biochemistry, and Lorelay's mentor, Dr. Natalie Mladenov, faculty member in the Civil, Construction, & Environmental Engineering Department, and their lab team members for the support and guidance they provided during this research, and continue to provide to our MARC scholars. Congratulation to all – fabulous job!