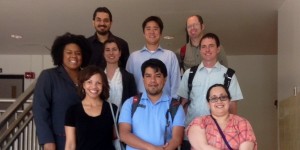 As part of their mission to prepare undergraduate science, technology, engineering and mathematics (STEM) and behavioral science students for direct-entry into Ph.D. programs, the Maximizing Access to Research Careers and Initiative for Maximizing Student Development programs held their 8th Annual Post-Ph.D. Panel on April 18, 2014.
This year, nine Ph.D.s from academia and industry participated in the STEM outreach event to mentor dozens SDSU's students from the College of Sciences and the College of Engineering.
Successful panelists
Many of the participants having received academic and financial support, as well as training and mentoring from the MARC and IMSD programs, have gone on to successfully graduate from a STEM doctoral program, and continue the tradition of giving back by mentoring others.
This year's panel included six SDSU alumni, two current SDSU post-doctoral students and one SDSU lecturer. Panelists answered undergraduate student questions and provided advice on how to obtain a Ph.D., choose the right career path and balance school, work and family.
The event had more than 60 undergraduates in attendance who took advantage of the opportunity to learn about life and employment after graduate school.
If you are passionate about research and dedicated to earning a Ph.D., contact MARC (https://marc.sdsu.edu/) and IMSD (http://sci.sdsu.edu/imsd/) for information about their programs.