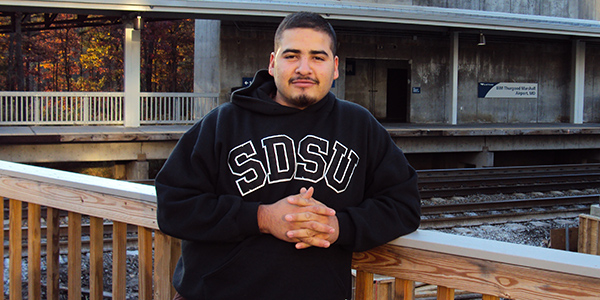 This month, Ismael Reveles graduates from SDSU with a BA in aerospace engineering — and a future full of promise.
He was awarded a full, 3-year National Science Foundation (NSF) Fellowship and stipend. His goal: to earn a doctorate, to continue his research, to teach and inspire other students to aim high and work hard.
This fall at Arizona State University, he'll begin studying mechanical engineering with a focus on biomechanics and prosthetics — artificial limbs.
"This work is geared mostly for military vets, amputees, but also for kids with cerebral palsy. They've got their limb, but it's not functional. With an assistive device, they can be functional again. I wonder sometimes if I should study to become a doctor, but this is very similar. I want to help people, and this is exciting."
Programs at SDSU have provided help and support
Born and raised in San Diego, and a graduate of Helix High, Ismael Reveles is the oldest of six — and the first in his family to attend college.
"SDSU was my first choice," he said, "because of family, wanting to stay close by."
He also credits SDSU for providing support, first through the Educational Opportunity Program (EOP), then through other groups as well.
"I give special thanks to the programs I've been involved in here at SDSU," he said. In his five years as an undergraduate, Reveles has participated in:
The McNair Scholars Program, which helps prepare students for doctoral studies through involvement in research and other scholarly activities.
Minority Access to Research Careers: "They were the first ones to give me a shot at becoming a researcher," Reveles said.
MESA Engineering Program, graduating students in engineering and physical sciences.
"All these programs, plus EOP, have helped me tremendously," Reveles said. "They've been the backbone for me at school. They took me under their wings and supported me through all the ups and downs, taught me to push myself and not to be afraid."
Reveles' efforts in biomechanics and prosthetics is one of many ways SDSU faculty are leading innovation and discovery, a key initiative of The Campaign for SDSU. With a unique focus on the teacher-scholar model, SDSU attracts researchers interested in solving the world's most pressing problems, while showing students how to provide future solutions. Learn more about how SDSU leads innovation and discovery, and how you can help.
Applying engineering principles to human anatomy
Reveles recalls his first years as a college student being tough. "You're trying to find out who you are within the university, what your interests are. Many times, students get discouraged. There's a lack of involvement, and maybe you have to take on part time jobs like I did, and you don't have opportunity to interact in school as much as you'd like."
Then he found his stride, and he hasn't looked back. He delved into aerospace engineering and found fascinating ways to apply what he'd learned to human anatomy. "In aerospace, we consider air as a fluid, just with less density. In human heart research, we also look at the flow of the liquid. The equations transfer over, so there's a real parallel."
Under the mentorship of Karen May-Newman in SDSU's Bioengineering Lab, he has analyzed vortex formation in the left ventricle of the heart. And he's been looking into the possible applications of artificial muscle actuators in rehabilitation for stroke victims. He traveled last summer to Cornell University, where his fascination with prosthetics took hold.
"In graduate school, I want to focus on robotics and understand how the brain registers all these motor processes. Cornell is what sparked my interest, and I had a great mentor there" ( Ephrahim Garcia).
Encouraging others
Reveles has presented to peers at SDSU and to students in the local community, hoping to spark their interest in science, technology, engineering and mathematics.
"I enjoy giving back to my community. I just spoke recently at a high school conference about engineering," he said. "I like to mentor all these students, now that I see the pathway to success and how to get there. I want to help steer them from many of the obstacles I encountered."
His advice to other students is to work hard and take control of their own destiny.
"I tell my friends to shoot for the stars, and at least you'll end up on a cloud."
They find that funny, he said, coming from an aerospace engineer.
Reveles currently serves as president of the SDSU chapter of a student organization that fosters the success of Hispanic/Chicano and Native American scientists — from college students to professionals — in attaining advanced degrees, careers and positions of leadership.
He's also co-president of an engineering society that recently organized a week-long "build-off" program for young students, called "Engineering in the Barrio."
"…I give special thanks to the programs I've been involved in here at SDSU…"
"We emphasize teamwork, education. It's more than just grades. It's curiosity and the motivation to learn. So we bring engineering to them. It's the best event. These are at risk middle school kids. It's amazing what they absorb by the end of the week, and how this tremendous event impacts their perspective on school and best of all, on STEM."
He also encourages his younger brothers and sisters to aim for a life of learning. "I let them know you don't have to be another me. You don't have to do engineering. Be happy with who you are and strive for the best."
Looking toward the future
Reveles credits his family for playing an important role in his early success. "I thank my family because they're a large part of who I am. These past couple of months it's really shown, the hard work they've put into making me the best person I could be."
With his newfound fascination for prosthetics, Reveles wants to be a part of the group of scientists who will develop the first functional robotic arms. He will present, along with a group of graduate students (he is the sole undergraduate), at the University of Washington this month, to share his research.
Three universities (SDSU, MIT, and the University of Washington) are currently partnered on an NSF grant to develop a center for research in prosthetics and rehabilitation devices.
"I was voted in as the only undergrad from SDSU to participate," said Reveles. "It will let me demonstrate my passion for research. It's a great opportunity. . . . This is a new field, and there's a lot of potential for young, driven individuals to grow."
Reveles chose to study at ASU because he was hoping to study under a faculty member who would work closely with him, invest time in his personal growth, someone who would be a true mentor. He's found that person in Veronica Santos.
Reveles has visited her lab twice already, and is looking forward to spending many hours doing research there. He says he felt an instant connection with Santos. "I'm going to a place where it's very comfortable, I feel like I'm going to be working with my mom. You don't want to fear asking for help in graduate school."
Reveles recalls that five years ago, he had no notion of what graduate school was. Now, he's aiming for a doctorate and even pondering becoming an NSF fellowship reviewer himself.
"I was awarded an NSF fellowship, and I feel that the review committee gave me a shot at something I didn't think was possible. I want to one day be part of a fellowship committee, to pay it forward to those students like myself. I want to tell students that there are opportunities out there. Take every opportunity, and make the most of it."
Reposted from SDSU NewsCenter.