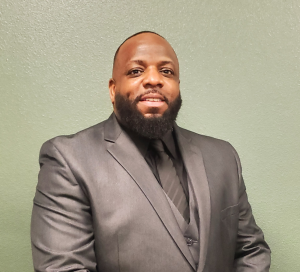 MARC Scholars are high-achievers and their scholarship allows them to pursue their goals without limitations. Read more about this month's MARC scholar achievements and experiences in research, leadership, and other accomplishments.
MARC Scholar, Deva Reign is a U.S. Navy Veteran Transfer Student currently earning his Bachelor of Arts (B.A.) Degree in Psychology with a minor in Philosophy at San Diego State University (SDSU). Deva transferred from Southwestern Community College to SDSU in 2018 where he earned his Associate of Arts (A.A.) Degree in Psychology and Telemedia.
Besides his strong work ethic, he was inducted into the Phi Theta Kappa National Honor Society in 2012 and was recently initiated into the Tau Sigma, and Sigma Alpha Lambda National Honor Societies this year. Deva was also appointed President of the Transfer Student Outreach Alliance (TSOA) in June 2019 where he has a number of duties and responsibilities, such as attending general members meetings, tabling and paneling for transfer students and STEM Panels, appoint and elect executive officers into office. In addition, he helps transfer students to write travel grants for yearly conferences. His accomplishments do not stop there, as he was also appointed Vice President of Tau Sigma National Honor Society in November 2019.
Deva served in the U.S. Navy aboard the USS Carl Vinson, and USS George Washington in the Air Department Primary Flight Control where he received the Meritorious Service Medal (MCM) for outstanding military achievement and  Meritorious Advancement in Rank.  Deva also received the Humanitarian Award for his relief efforts in Operation Haiti in 2010.  Prior to service in the U.S. Military Deva was a trained Certified NASA Satellite Specialist where he was the second lead in charge of engineering and implementation of seven Satellite Payloads, which was the access point for what is known today as the World Wide Web! 
Where is Deva now? Deva was recently appointed to the MARC Scholars Program in September 2019, where he is currently conducting an independent research project under his mentor Dr. Eileen Moore at the Center for Behavioral Teratology, Behavioral Neuroscience Laboratory. at SDSU. Currently, he and Dr. Moore are studying the effects of alcohol exposure on brain development, birth teratogens, behavioral teratogens, and Fetal Alcohol Spectrum Disorder.  Once completing his Bachelor's degree, Deva plans to pursue his Ph.D. in Neuroscience and Behavior, specializing in Cognitive Neuroscience, and Neuropsychology in patients with Concussions, Chronic Traumatic Encephalopathy (CTE), Traumatic Brain Injuries (TBI's), and Post Traumatic Stress Disorder (PTSD).
We could not be more proud of all of Deva's accomplishments thus far. We have no doubt he will succeed and make a real change in his field!