Raised in Baltimore public housing and homeless at 17, Deva Reign achieved success as a musician before joining the U.S. Navy. He was awarded an honorable discharge following a distinguished military career.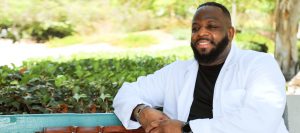 A disabled veteran, Deva is a senior at San Diego State majoring in psychology with a minor in philosophy. His fascination with neuropsychology led him to positions with San Diego State's Center for Behavioral Teratology and the National Institutes of Health/National Institute of General Medical Sciences honors program's Maximizing Access to Research Careers initiative. There, he is studying alcohol's effects on the brain. Deva served as president of the Transfer Student Outreach Alliance on campus and as vice president for the Tau Sigma National Honor Society. He is a member of the Black Student Science Organization and the Society for the Advancement of Chicanos/Hispanics and Native Americans in Science.
Deva plans to earn his doctorate in clinical neuropsychology to pursue a faculty position conducting research, mentoring students and working with veterans and athletes who have traumatic brain injuries.
Original Article here