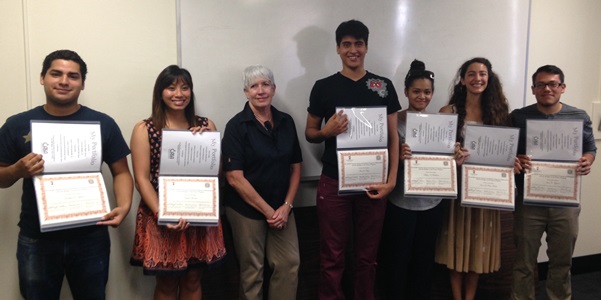 Read about the experience that three Pre-MARC students had during the Science Enrichment Program (SEP) this summer 2014.  During the six-week program, students took part in lectures, seminars on writing, mathematics, chemistry and research design.  They learned lab skills to use in the hands-on portion of the program.

Crystal Monsale
Major: Biochemistry
The Pre-MARC Science Enrichment Program was an incredibly rewarding experience.  By participating in the program, I was able to get hands-on experience in a microbiology lab, where I learned a variety of techniques such as gram staining and quadrant streaking with different types of bacteria.  I also had the opportunity to participate in a cardiovascular research lab, where I observed neonatal heart cells and witnessed the heart perfusion of a rat. I enjoyed my experience being in the laboratory setting,  but it was also great because I got to take different courses in chemistry and experimental design without the pressure of being graded.  In my opinion, however, the best part was being able to network with really great people in the science community and create lifelong friendships with the Bridges to the Baccalaureate and Pre-MARC students.  Through the 6-week program, I actually discovered new interests, which also helped me justify my own desire to pursue a research career in biochemistry.  I would highly recommend the program to anyone pursuing a career in the sciences!

Jesus Ortiz
Major: Biology
Throughout the intensive 6-week Pre-MARC Science Enrichment program I had the opportunity to participate in research and science based activities engaging in: learning about and creating a research proposal, neonatal cardiomyocite contraction pattern, qualitative and quantitative multi-instrumental analysis, and creating computational simple function operations with MATLAB. I came to the conclusion that I should not choose one path in my field of study. This thought brought a change in my perception and interest in a career. I am now convinced that knowledge, abilities and skills are transferable and applicable in ways and fields never thought of before. Overall the summer program was an enjoyable and valuable experience, and no single aspect stood out more than the rest. The junction of activities, concepts, ideas and people played a part to give meaning as to why one should aspire to a post-baccalaureate education or Ph.D.

Sara Torres
Major: Biochemistry
The six weeks I spent in the Pre-MARC Science Enrichment Program (SEP) was an irreplaceable experience, in which, I met wonderful students and educators, expanded my knowledge about research, and had a great time. I learned much more than what I imagined from guest speakers and educators, who taught the seminars in writing, research design, math, microbiology, and chemistry. I also enjoyed being challenged and obtaining first-hand experience in a lab, whether it was through developing a research proposal, observing cardiomyocytes, or growing a pure culture. Each day in SEP, students and educators inspired me to develop and pursue my life goals. I entered SEP considering research as a career, but through SEP I was assured of my desire to obtain a Ph.D. and pursue a career in research.